The majority of personal trainers have clients over the age of 65. As the population of older adults is expected to increase by 23% by 2066 (ABS 2018). It is therefore important to know how to make modifications and exercise programs for older adults.  We've come up with 5 key points for you to consider when training elderly clients.
There is no one size fits all when coaching so it's important not to think of exercises as being 'appropriate for older clients'. The first step, like with any client is to have a consultation and make any notes of past injuries, health, goals and previous exercise experience.
An effective exercise plan for older adults should not only be comprehensive and address functional needs, but obviously also needs to be enjoyable, specific, realistic and safe.
Don't make the mistake of assuming your client's age will dictate exactly how they need to be trained. There are many over 60's who have exercised their entire life and are physically fitter than those half their age.
Mental health is just as important as physical health. It is great to encourage your client and make them feel happy to be walking into the gym. You should help them see their own ability and direct them to do exercises they favour more.
Focus on making them feel comfortable at the gym and motivate them to get into the habit of working out. Be careful not to push them too hard past their limits as it might make them feel overwhelmed.
Many seniors will experience pain in multiple movements so it's important that you change up your workouts to cater to their current flexibility. For instance, a client with a rounded upper back may find it difficult to perform exercises such as rows. In cases like this you could build up to performing this exercise by incorporating flexibility and stretching movements that may help increase the range of motion.
Focusing on flexibility should be one of your top priorities when training seniors. Even a simple stretching routine before each session can reverse the effects of tight muscles and helps improve range of motion when training them.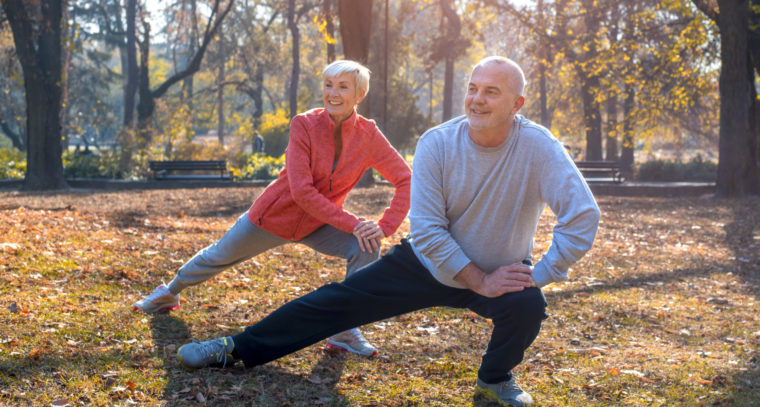 The loss of balance and fear of falling are the two things that greatly affect older individuals' quality of life.
In terms of older adults, having the quick reflexes necessary to stop a fall is similar to having the tennis player's ability to return a serve. This skill is utilised to correct a slip or trip rather than attempt to return a serve. In order to develop this reflex skill and educate the person how to quickly manage changes in direction and body position, agility and coordination exercises can be performed to help reduce the risk of falling.
While older clients may have a few more functional limitations to consider when training, this is absolutely no excuse to relegate them to solely cardio machines. Get them up, moving and training hard. Respect their individual limitations, keep it safe, but focus on what they can do, not on what they can't!